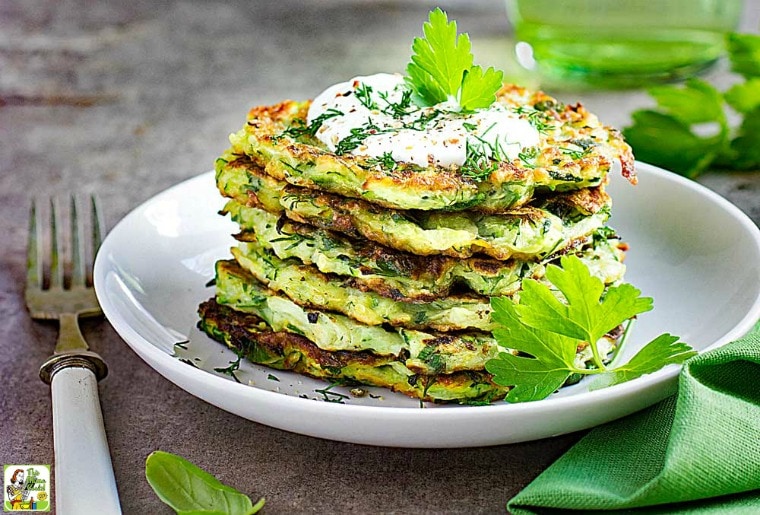 I made this Zucchini Fritters recipe many years ago as part of a blogger cooking challenge. I thought I'd share it with you for Pancake Tuesday.
Zucchini fritters are a terrific way to use up extra zucchini from your summer garden. However, any time of year, you can use zucchini from your local grocery store or farmers' market.
Don't feel like grating two pounds of zucchini, then attempt Green Giant Zucchini Veggie Spirals which you can find in the freezer section. (Love this product!) Yes, a bit pricey, but super convenient to use.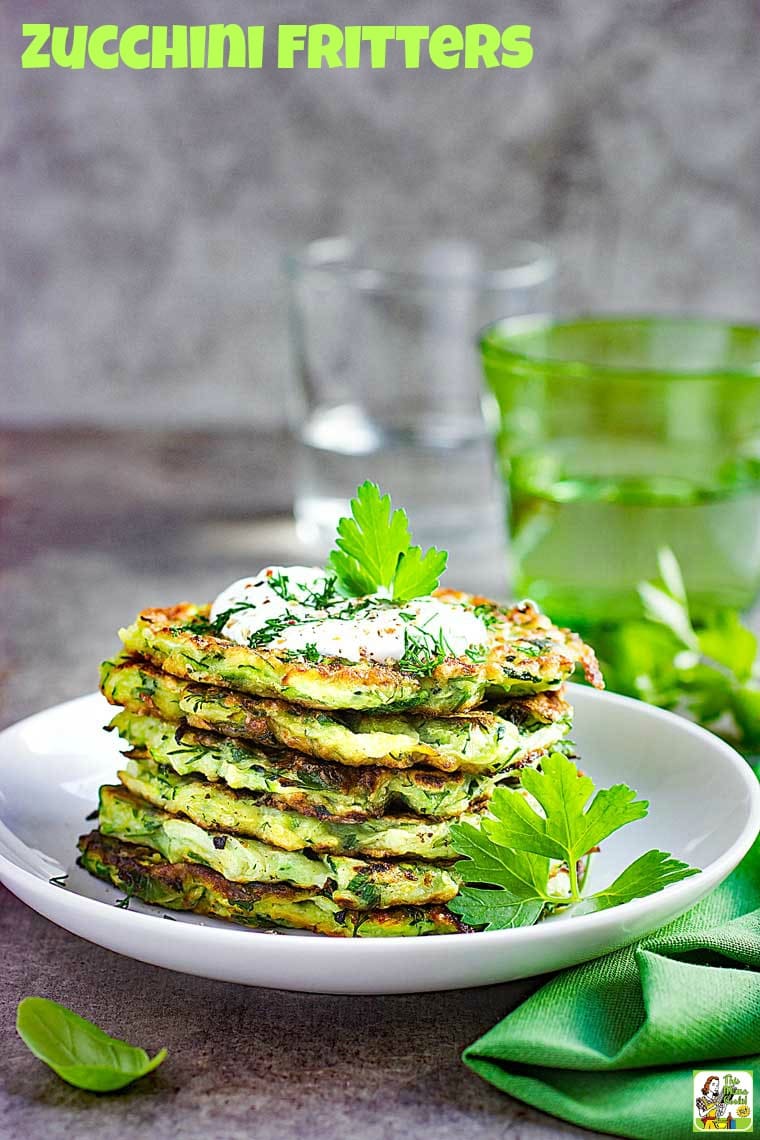 This zucchini fritter recipe is made gluten free by using an all purpose gluten free flour like Bob's Red Mill Gluten-Free 1-to-1 Baking Flour.
If you are not gluten free, you can use a regular all purpose flour, of course.
This fritter recipe is naturally dairy free as well, since the fritter pancakes are consumed in canola oil rather than butter. There's also no extra dairy products like milk or cream in the batter.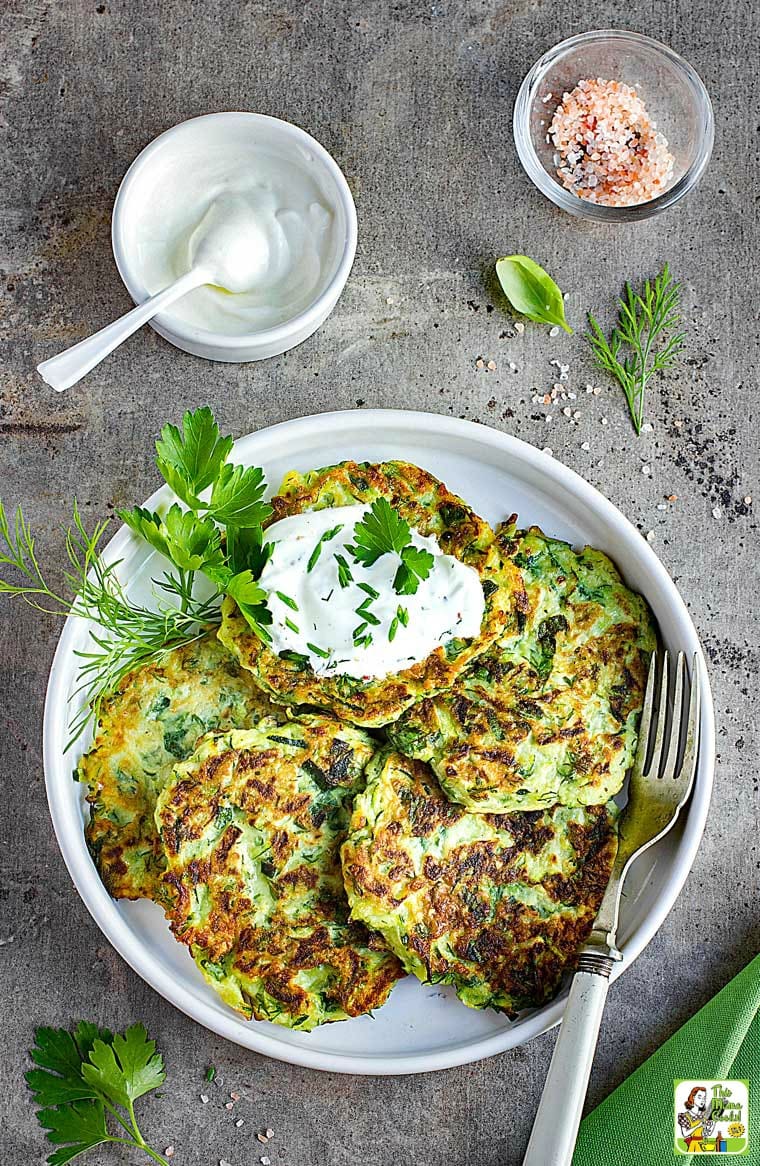 How to serve up zucchini fritters
If you love potato pancakes, you know they're served with apple sauce and sour cream. Well, that is how I like to serve these zucchini fritters! (Though I feel that non-fat Greek yogurt is a smarter alterative than sour cream.)
You may prefer this fritters recipe with ketchup. (I serve my Corn Fritters recipe with ketchup).
I also think Zucchini Fritters are delicious on their own, and are just as great the second day chilly as a lunch time snack.
Finally, you can serve these for breakfast or dinner — or a combination of both, what some people call"brinner." You can also make zucchini fritters as a side dish with beef or grilled chicken.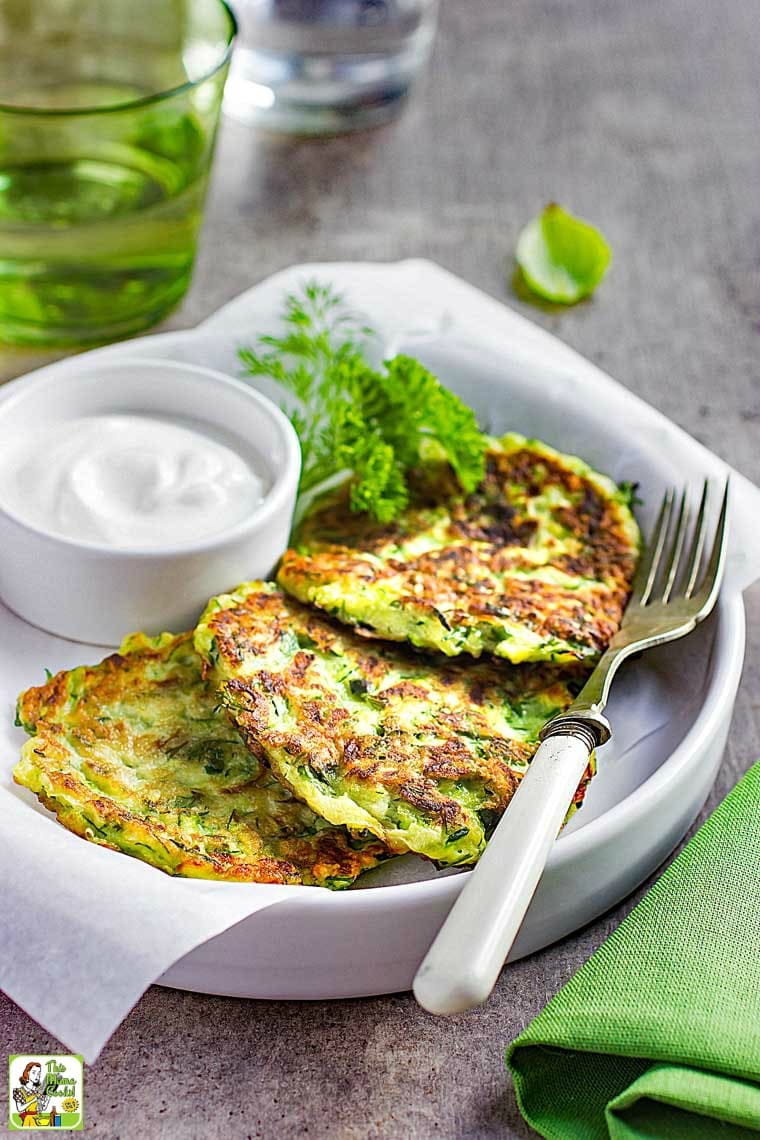 So what's the difference between zucchini fritters and a zucchini pancake made with the very same ingredients?
In accordance with The Old Foodie:"Not much really."
Some zucchini fritter recipes are thick and pancake like, but others look like zucchini latkes with a great deal of pieces of crispy zucchini sticking out. Occasionally fritters even seem like fried dough balls.
My gluten free zucchini fritter recipe is more pancake like — and fairly wholesome because it's not deep fried like a doughnut.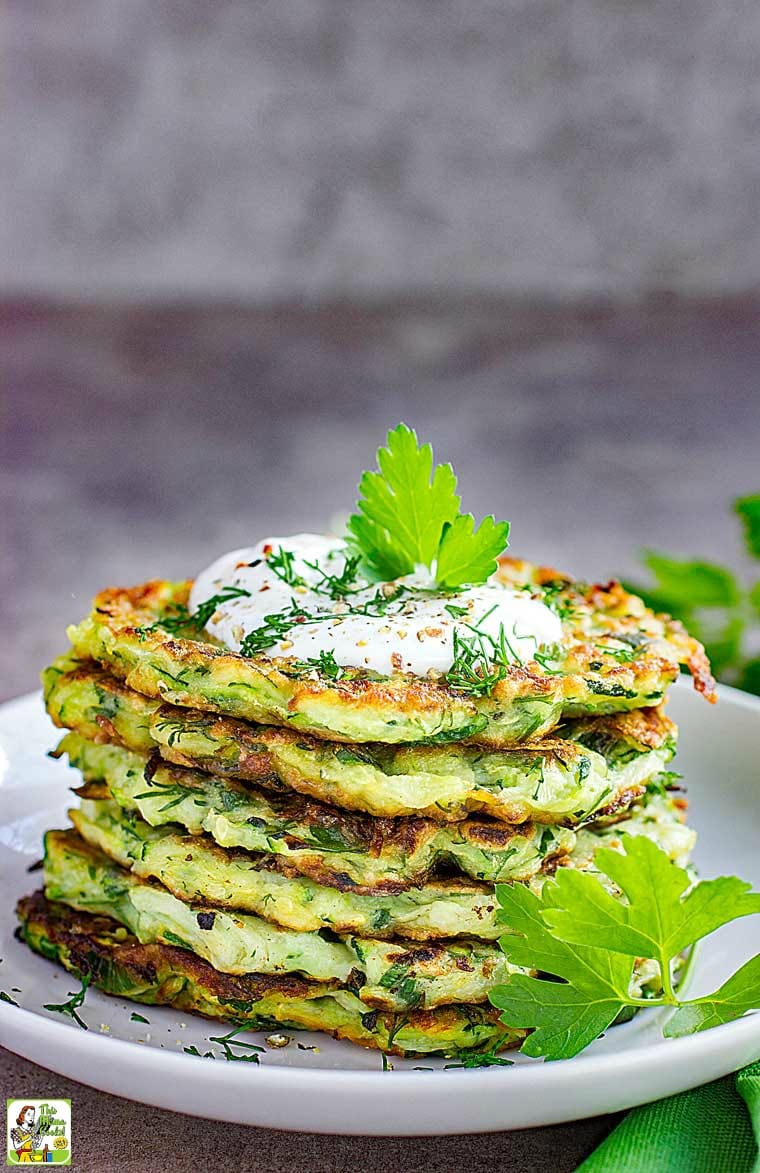 More zucchini fritter recipe hints
Keep several bags of zucchini veggie spirals in your freezer. (Stock up when they are on sale or when you have coupons!) This way you can make a last minute batch of zucchini fritters for breakfast or dinner.
Forgot to pick up fresh sage at the shop or do not have any in your backyard? You may substitute 1 teaspoon ground sage.
Using a box grater is so much work that you'll wonder why you didn't bother taking your food processor out of the pantry.
I have an older Cuisinart Prep 11 Plus with an 11-cup capacity. If it ever breaks, I'd purchase a Cuisinart 14-Cup Food Processor in brushed stainless steel. I'd love to get a bigger work bowl and a larger feed tube.
Grate the zucchini, onion, and shallots in a food processor.
In a bowl, mix rest of ingredients, except the canola oil.
Immediately stir in the zucchini, onion, and shallots. Mix well.
Heat oil in a large sauté pan or pancake skillet over moderate heat.
Drop 1/4 cup of batter to the skillet or pan. Cook the pancakes about two minutes on each side, until golden brown.
Place the pancakes on an oven-safe plate or sheet pan and keep warm in the oven.
Continue to make pancakes until all of the batter is used.
The pancakes can stay warm in the oven for up to half an hour. Serve hot.

Originally posted on September 12, 2011. Updated with new pictures and information.

Picture credit: Anna Shepulova at Depositphotos