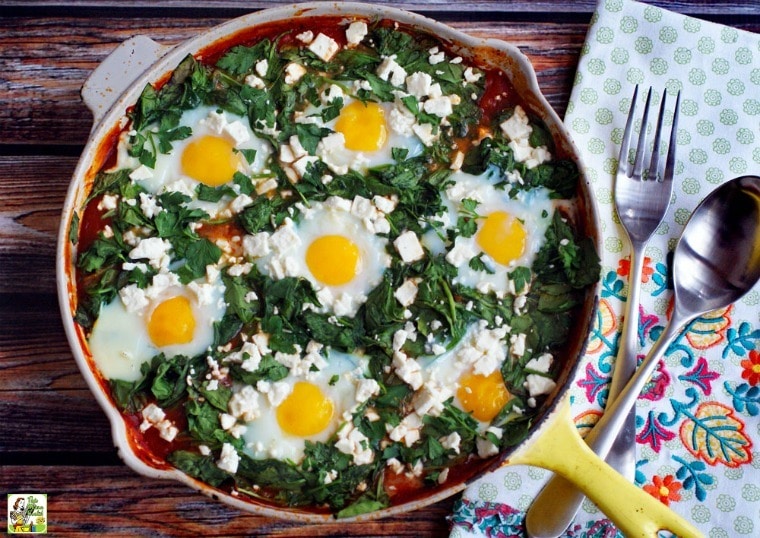 Have you ever tried Shakshuka with Feta?   Shakshuka (or shakshouka) — pronounced "shahk-SHOO-kah" — is a staple of Middle Eastern cuisine.
Traditionally it's cooked in a cast iron pan with a tomato-based eggs and sauce as the main ingredients.
However, I've seen all types of shakshuka ingredients such as chickpeas, potatoes, Middle Eastern and Mediterranean spices, and various kinds of meats and cheeses.
I create my shakshuka with feta and some form of meaty bacon, ham or pancetta. I love how the saltiness of the meat and cheese compliments the sauce, eggs and lettuce.
Anyway you make it, it is a show stopper. The stunning yellow yokes, beautiful green leaves, and a red sauce served in a cast iron skillet are sure to have everyone oohing and aahing when you pull it from the oven.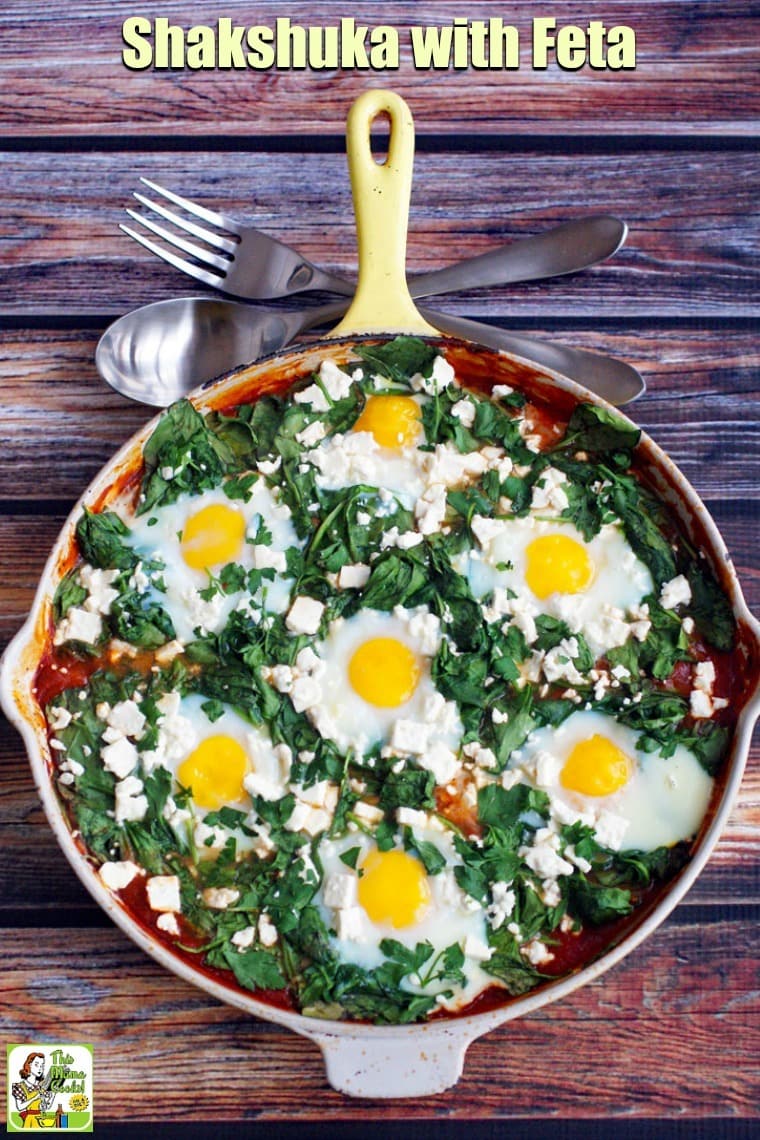 An easy shakshuka recipe for all meals
Since shakshuka features eggs, it's often served as a breakfast or brunch dish. It might remind you of a somewhat similar Mexican dish, Breakfast Chilaquiles.
You can serve it with pita, gluten free toast, or some crusty French or Italian style bread to sop up the sauce.
Consider serving it lunch or dinner with a hearty side salad, like a Kale Salad with Fruity Vinaigrette.
It's also a festive dish for the holidays as it is red and green!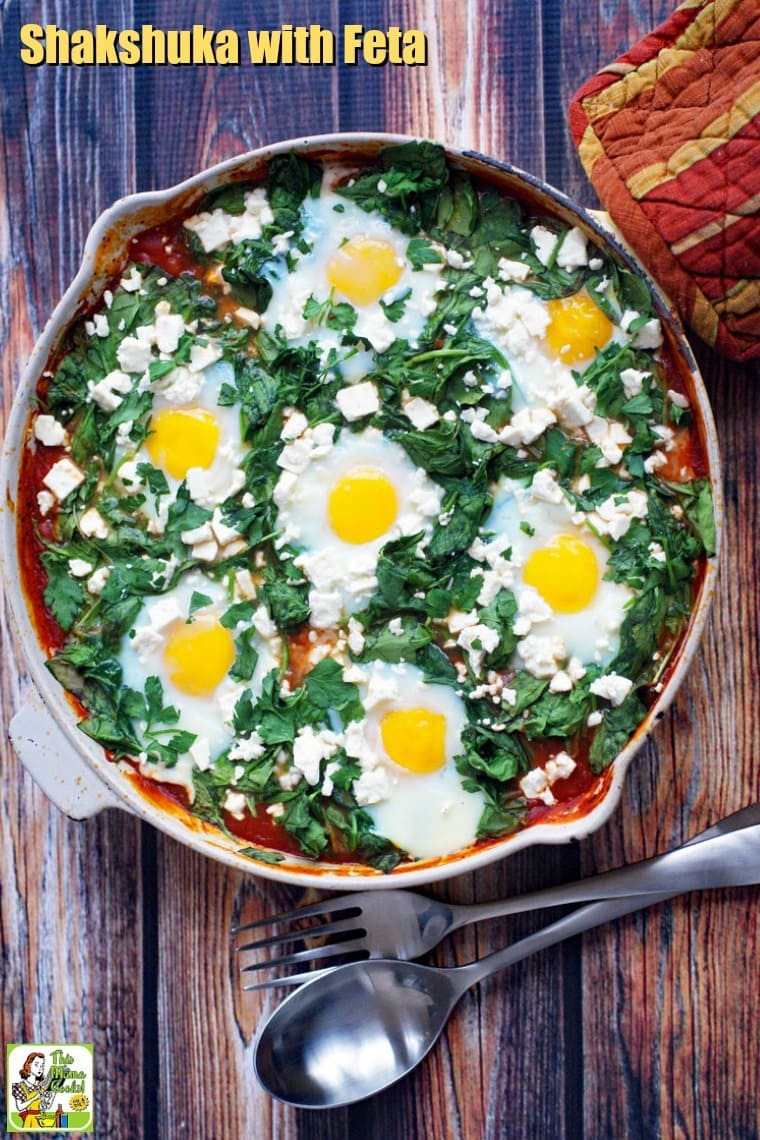 How to Earn shakshuka eggs just right
I've decided to make my shakshuka recipe as easy as possible when it comes to serving this up. But some people might not like runny eggs. Not to worry!
For those who have a mixed group, serve it to the"runny" people first. Then stick your skillet back in the oven for a few more minutes to firm up the remaining eggs.
Or serve the shakshuka in oven safe bowls and place those in the oven for a couple of minutes to firm up the eggs.
In any event, everybody's happy with their eggs cooked to order!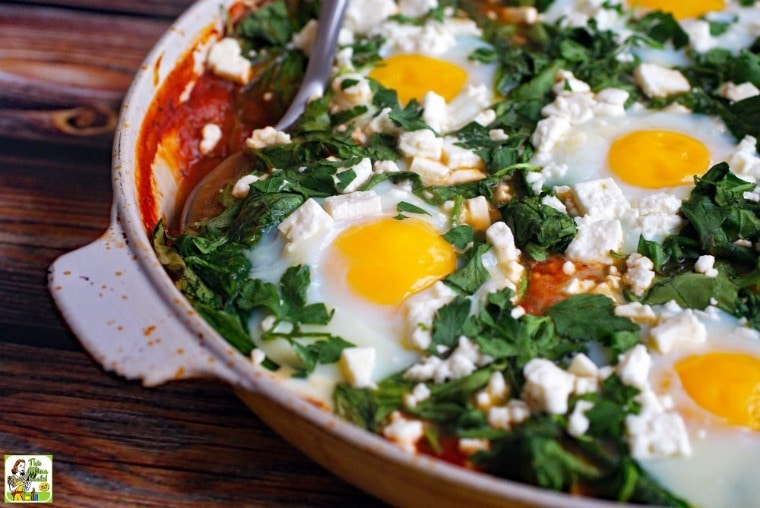 To make this a vegetarian dish, forget the pancetta, meaty bacon or country ham and add a little more feta.
If you grow fresh basil and oregano in your kitchen garden, use that instead of the dried herbs. Use 1/2 tbsp of finely chopped fresh herbs rather than 1/2 teaspoon of dried herbs.
Like spicy dishes? Add a few more pinches of crushed red pepper or serve the shakshuka with your favourite hot sauce.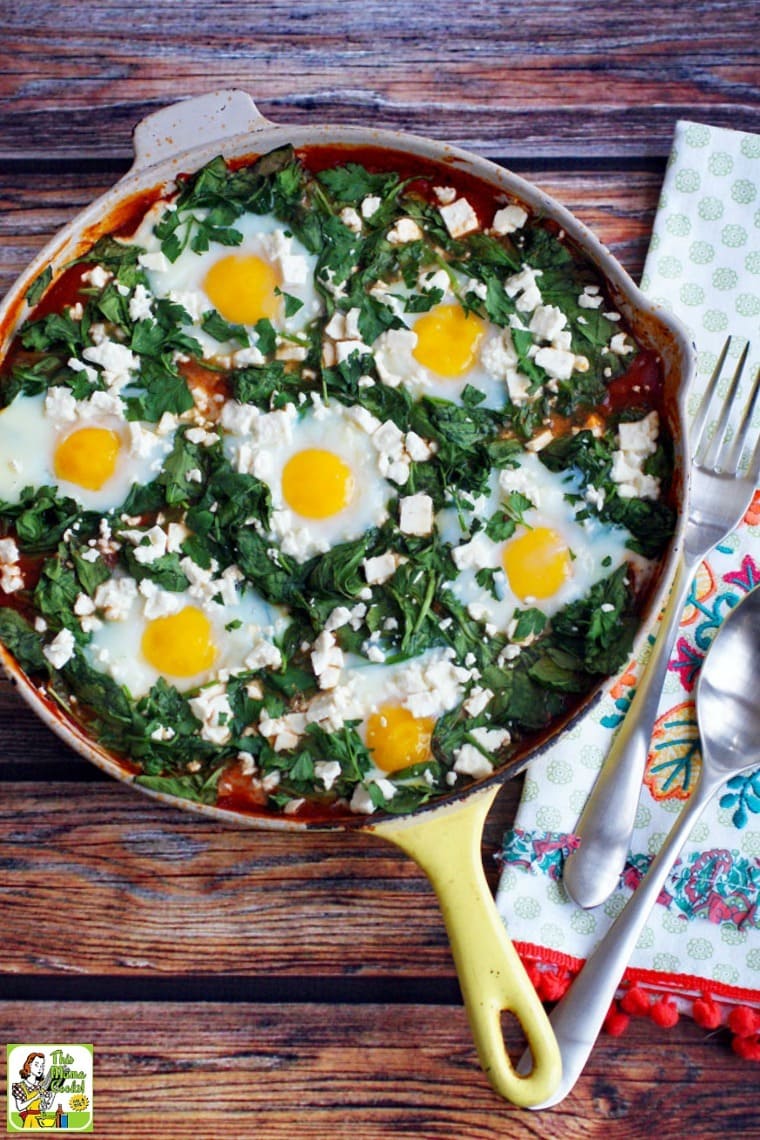 What Sort of skillet?
I made this simple shakshuka recipe in my yellow 11 3/4-inch Le Creuset Enameled Cast-Iron Skillet. I was lucky enough to purchase it from a buddy for next to nothing because she was moving to the UK.
However, if you're searching for an affordable cast iron skillet, I recommend Lodge Cast Iron Skillets. They're made in the USA, well made, and will work on your own Induction Cooktop Stove.
You don't need to create Shakshuka with Feta in a cast iron skillet, however. But it ought to be a large oven safe skillet. You don't need the handle to melt and ruin your food!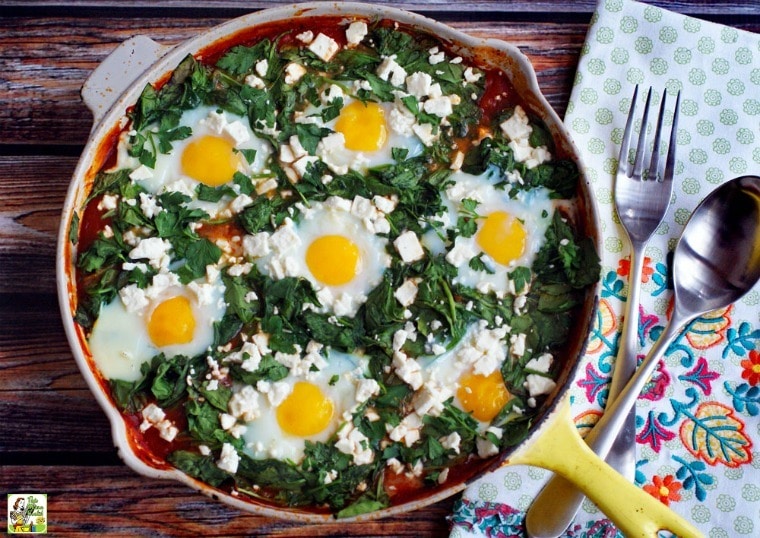 Ingredients
1 tbsp

olive oil

4 ounces

pancetta, meaty bacon or country ham, finely chopped

1

medium onion, finely chopped

4

garlic cloves, finely chopped

2 (15 oz ) cans

tomato sauce

1/2 tsp

dried basil

1/2 teaspoon

dried oregano

pinch

crushed red pepper

1/2 teaspoon

salt

1/4 tsp

ground black pepper

1 (10 ounce) container

baby spinach leaves

6-8

large eggs (depending on sized of skillet)

1/2 cup

feta, crumbled

2 tablespoons

flat leaf parsley, chopped

Pita, gluten free toast, or crusty bread
Instructions
Preheat oven to 350 degrees F.
In a large oven safe skillet, heat the olive oil over medium heat.
Add the tomato sauce, dried basil, dried oregano, crushed red pepper, salt and ground black pepper. Simmer until the sauce is thickened — about 15 minutes.
Meanwhile, using a steamer basket over boiling water, steam lettuce leaves till wilted — about 3 to 5 minutes.
When sauce has thickened, removed skillet from stovetop. Add spinach leaves a few at a time to the skillet, creating a"nest" for the egg with a hole at the center. Based upon the size of the skillet (I used a 11 3/4 inch ) you should be able to create 6 to 8 nests. Transfer the pan to the oven and bake the eggs for 10 to 12 minutes until the egg whites are just starting to set.
Slide the skillet from the oven rack and sprinkle with feta and parsley. Place back into the coven and cook for 3 more minutes until egg whites are set and the yolks are still runny.
Serve with pita, gluten free toast, or crusty bread.
Serving size:

1 to 2 eggs
Originally posted on December 9, 2013. Updated with new photos and information.