This Pimento Cheese Dip is the perfect low carb appetizer to share with friends and family, or enjoy on your own. Cheesy, flavorful, slightly spicy, and naturally keto!
'Tis the season for low carb dips and keto appetizers
If you've never had pimento cheese, let me be the first to welcome you to the creamy, savory, cheesy, flavor-packed deliciousness that is the southern cousin of pub cheese. Cream cheese, shredded cheddar and sharp cheddar, mayo, pimento peppers, Dijon, sweet paprika, cayenne, garlic, and onion powder — pimento cheese dip is the ultimate keto dip.
You can serve it hot or cold, as a dip, a spread, or even sandwiched between two slices of toasted low carb bread. Pimento cheese is delicious, any time of year, and it comes together so quickly for an easy crowd pleaser.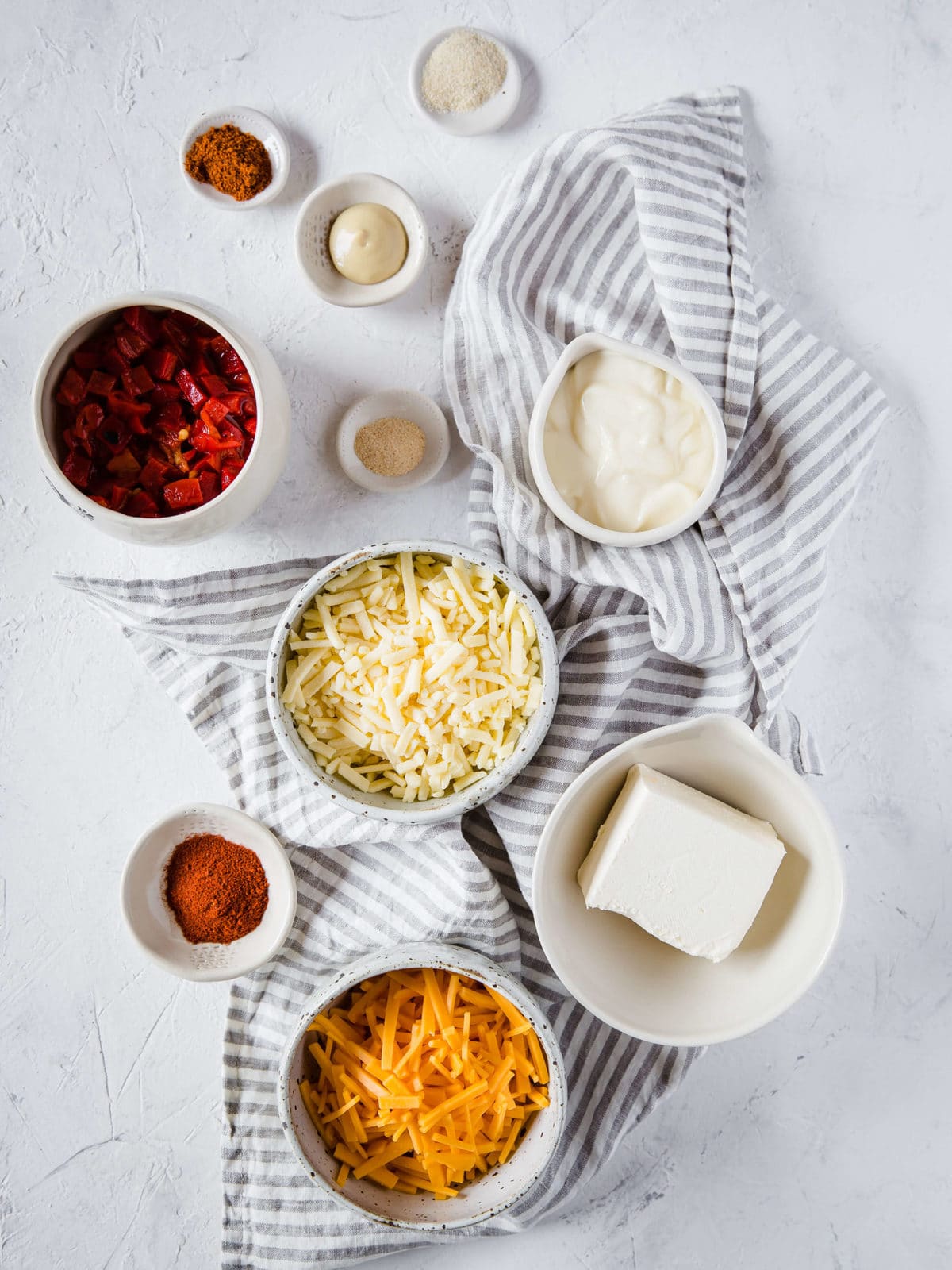 Low carb cheese and crackers?!
What's a deliciously cheesy keto dip without low carb crackers? And not just any crackers, either. I've got 2 gluten free cracker recipes for you that take this dip to the next level. Choose from Rosemary and Thyme Keto Crackers or Parmesan Chive and Garlic Keto Crackers.
Want more options? While these flavor combinations are absolutely delicious, you could also try using these keto cracker recipes as a base for a custom cracker creation. Double or triple the recipe and try dipping the different flavor combos below as a compliment to this pimento cheese dip recipe:
Sea salt and black pepper



Ginger and turmeric

Chili lime and cumin

Pepper and Parmesan

Garlic and rosemary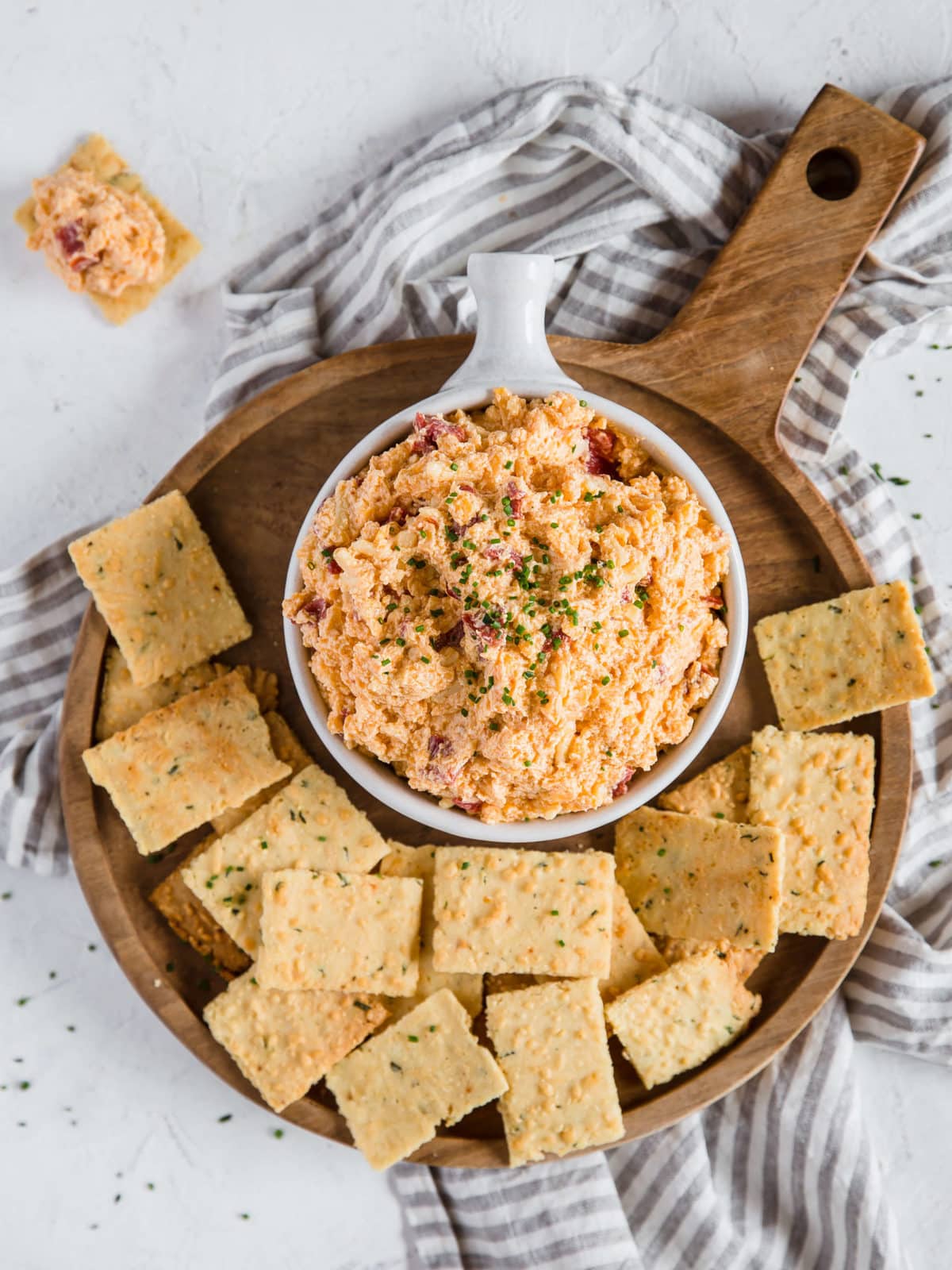 What else goes great with keto cheese dip and crackers? A keto charcuterie board!
The best part of pimento cheese is that it works with so many different dippers. I could see this pimento cheese dip recipe as the center of an epic keto charcuterie board. Low carb crackers, pimento cheese dip, nuts, berries, olives, pickled veggies, prosciutto, salami … the possibilities are endless.
If you want more low carb charcuterie board inspiration, check out this post: How to Build an Epic Keto Charcuterie Board. Charcuterie is the perfect holiday party appetizer, or any day of the week meal. It's like adult Lunchables … remember those?
Pimento Cheese Dip
Author: Kyndra Holley
Prep Time: 10 minutes
Total Time: 10 minutes
Yield: 8 servings
Ingredients
4 ounces cream cheese, softened
1/2 cup mayonnaise (I like to make my own)

1 cup shredded sharp cheddar
1 cup shredded cheddar

1 teaspoon Dijon mustard

1 teaspoon sweet paprika
1/4 teaspoon cayenne pepper, more to taste

1/2 teaspoon onion powder

1/2 teaspoon garlic powder

1 cup chopped pimento peppers

3 fresh chives, chopped (extra for garnish)
Instructions
Place softened cream cheese in a bowl and beat it well until smooth.
Add the mayonnaise and Dijon mustard, stirring to combine.
Next, add the shredded cheeses and seasonings to the bowl, stirring so that everything is evenly distributed throughout the dip.
Lastly, gently fold in the pimentos and chives.
Serve with crackers, fresh vegetable sticks, or any of the low carb snack options listed above.
Notes
Net carbs per serving: 2.4g
Nutrition
Serving Size: 1 serving
Calories: 258 calories
Fat: 24.9g
Carbohydrates: 3.1g
Fiber: 0.7g
Protein: 8g
Keywords: Low carb dip, Keto appetizers, Low carb cheese and crackers, Gluten free crackers and cheese, Low carb party food
Did you make this recipe?
Tag @peaceloveandlowcarb on Instagram and hashtag it #peaceloveandlowcarb
The post Pimento Cheese Dip appeared first on Peace Love and Low Carb.