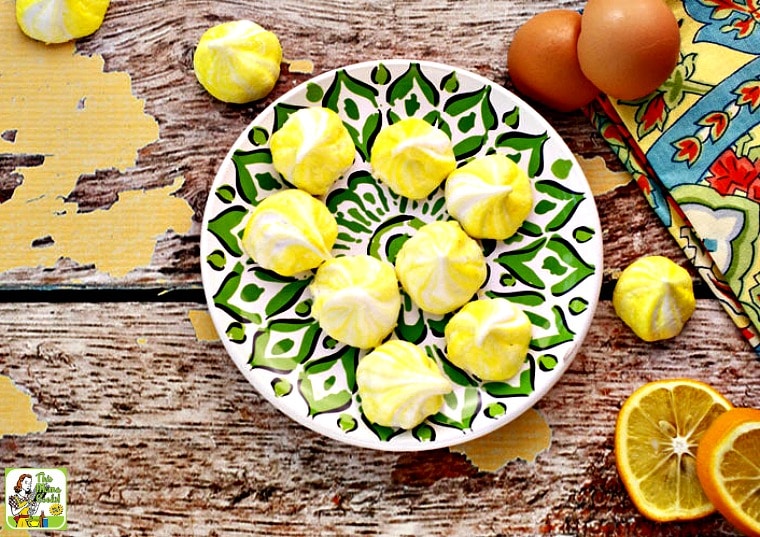 I love eating meringues cookies. They're little bites of sweet egg white goodness!
They are low in fat, gluten-free, and a rather guilt-free indulgence.
Since I was a kid, meringue cookies have always been one of my favorite sort of desserts.
As a teen, I would always stop at the bakery in our town's most important street and buy a meringue cookie while out with shopping my friends. Better than fast food!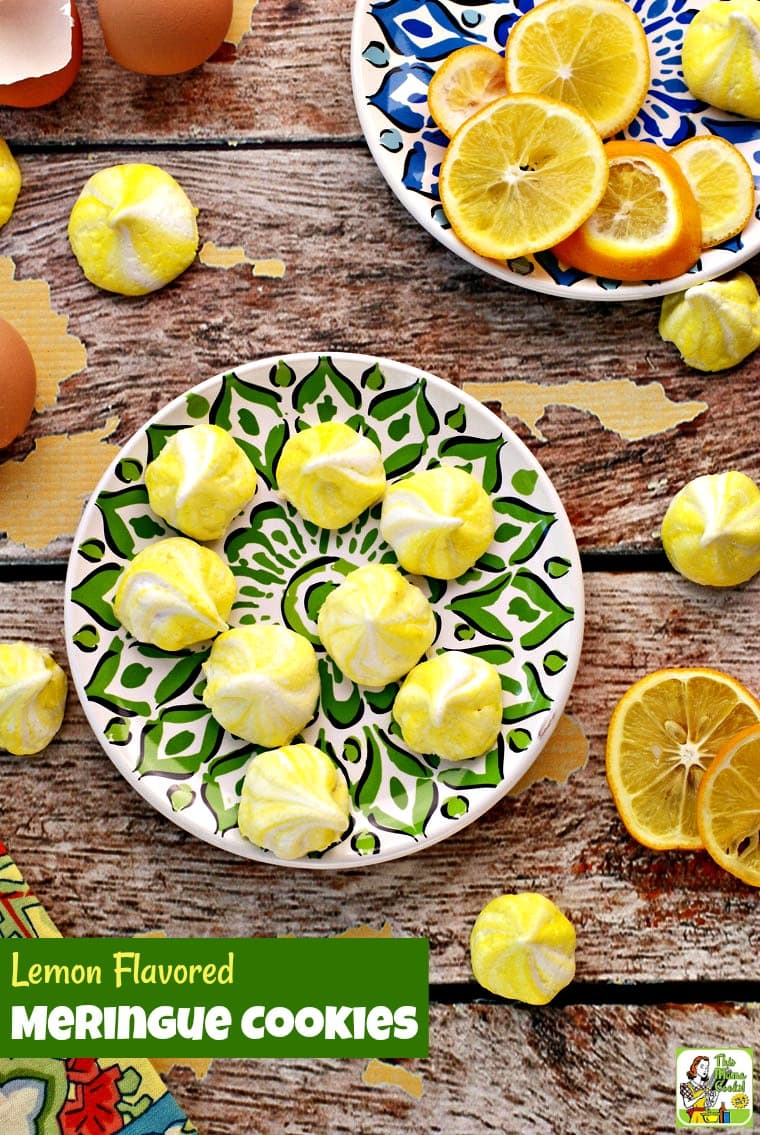 First, I flavored these meringue cookies with grated Meyer lemon rind, which provides them an amazing flavor.
Meyers lemons are often available in the late winter to early spring. Most supermarkets carry these days.
I like Meyer lemons because they are sweeter and not as tangy than regular lemons.
But if you can not locate Meyer lemons use vanilla extract to make vanilla meringue cookies instead.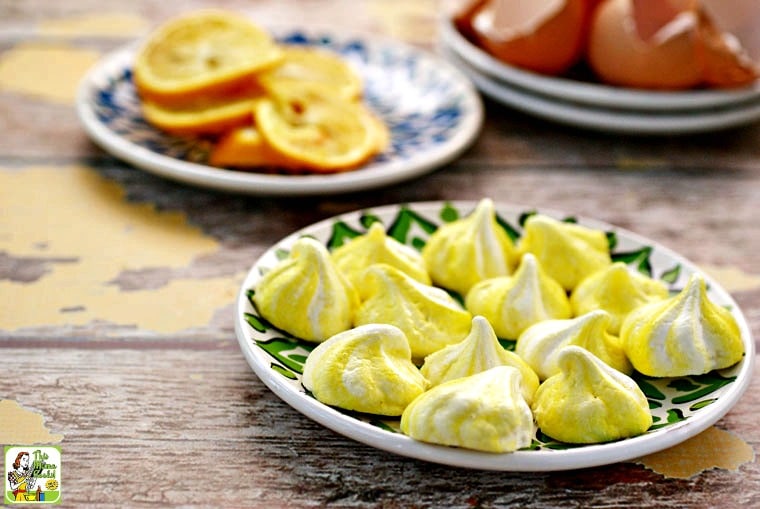 How to Create meringue cookies
First, ensure that your bowl and beater are super clean. If there's any grease on your gear, your egg whites won't stiffen.
Second, your eggs should be at room temperature — around 68 to 70 degrees F.
Third, if it's very humid, make meringue recipe a different day. Seriously, your cookies won't bake up if it is humid out. Go out for ice cream instead!
Fourth, you have to use real sugar. (Not powdered sugar!) I used organic cane sugar, which was great, but regular granulated table sugar will do the job just fine.
Unfortunately, my efforts to make sugar free Lemon Flavored Meringue Cookies using sugar substitutes like Splenda, monk fruit sweetener, and Swerve Sweetener have all failed on me much to my chagrin.
Lastly, make your meringue recipe in the day. You'll need to bake the meringue cookies for 45 minutes and then turn off the oven and let them sit for at least 4 hours. Overnight is best so they get super crispy.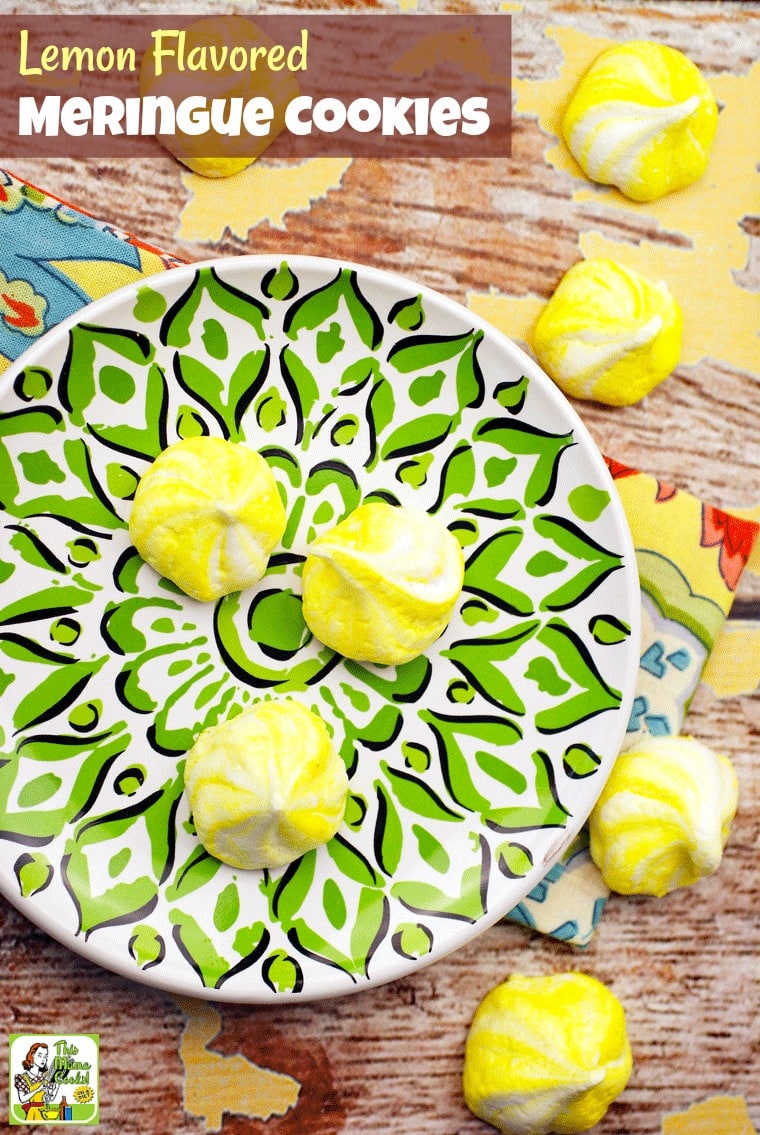 Piping the meringue cookies
To color your meringue cookies, you can stripe your piping bag using paste food coloring. It is totally optional, but it added a fun touch.
I striped my piping bag with a bit too much Wilton yellow paste food coloring. (Whoops!) Next time I wouldn't use so much.
amzn_assoc_tracking_id = "thmacoonadi02-20";
amzn_assoc_ad_mode = "manual";
amzn_assoc_ad_type = "smart";
amzn_assoc_marketplace = "amazon";
amzn_assoc_region = "US";
amzn_assoc_design = "enhanced_links";
amzn_assoc_asins = "B008BVXSRC";
amzn_assoc_placement = "adunit";
amzn_assoc_linkid = "8d3b429b9b40fda5de9d646f2e7b2c65";
Watch their video to learn how to pipe meringue cookies, too!
I really like being able to utilize my piping supplies once I made these meringues. I used to take Wilton courses when my kids were younger and they've come in handy when I bake.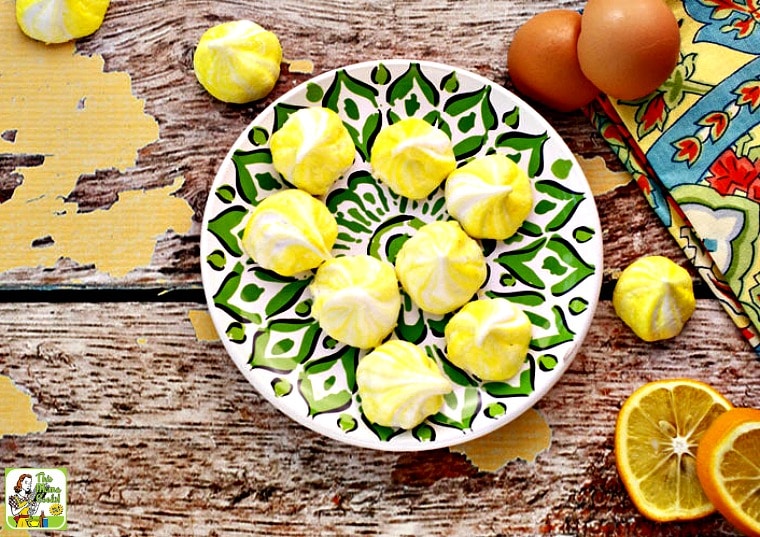 Lemon Flavored Meringue Cookies
Ingredients
No stick cooking spray

4

egg whites, at room temperature

1/2 tsp

cream of tartar

1 cup

granulated sugar

1 teaspoon

gluten free pure vanilla extract

1/2 teaspoon

grated Meyer lemon zest

Paste food coloring (optional)
Directions
Preheat oven to 225 degrees F.
Line 2 large baking sheets with aluminum foil and spray with no stick cooking spray. Set aside.
Prepare a large piping bag with a large star tip.
Beat egg whites on medium speed in a freestanding mixer with the wire whisk attachment until frothy. While still beating, add the cream of tartar and beat until soft peaks form. Add sugar by the tablespoonful. Beat until the sugar is dissolved and stiff peaks are formed. (You'll know you are getting close when the egg whites start to become glossy.)
Beat in extract and grated lemon zest until well incorporated.
Fill piping bag halfway with meringue. Pipe about 1 teaspoon of meringue on to baking sheet. Be certain that meringues are 1 inch apart.
Put both baking sheets in the oven and bake for 45 minutes. Turn oven off. Let meringues sit for at least 4 hours. Overnight is ideal.
Gradually remove meringues from baking sheet by peeling aluminum foil from meringue, if needed.
Servings
:
Makes approximately 5 to 6 dozen meringues
Serving size:

two meringues
Originally published on May 8, 2014. Updated with new pictures and information.