Keto Egg Fast Lemon Bars
This fantastic cheesecake type recipe for Egg Quick Lemon bars initially came from a few group members in the Egg Fast Stall Breaker facebook support group.
I tried it and I loved it but my big problem with it was the egg to fat ratio. For followers of this Egg Quick, this is critical because it's so easy to lose track of the number of eggs vs how many carbs, that is a vital part of the Egg Fast.
Additionally, the original recipe called for 1 oz cheese for each egg and I think people get better results on this quickly with less cheese.
So I've tweaked the recipe to wind up with not just using one half the amount of cheese, but also keeping with the 1 egg to 1 tablespoon fat ratio.
Read What is the Egg Fast here.
To help with tracking eggs and fats get your 5 Day Egg Fast tracker here
(adsbygoogle = window.adsbygoogle || []).push();
Tools and Ingredients Needed to Make Keto Egg Fast Lemon Bars
Please note: The blue links are affiliate links meaning I will earn a small commission if you buy the item. This won't affect the purchase price you pay and it will help me keep this blog alive. I appreciate how much my readers support me in this way!
(adsbygoogle = window.adsbygoogle || []).push();
Shifting up the Egg Fast Lemon Bars
Ok, there's lots of stuff you can do this! Check out the Lime Bars I made for St. Patrick's Day!
Here are a Couple of variation Suggestions to change the flavor:
The True Lemon Crystals now come in other flavors such as Lime and Orange
Omit the sweetener and use one of the allowed sugar free beverage mixes to taste the bars
rather than True Lemon crystals take advantage of extracts like Maple, Rum, Banana, Coconut, etc. I'm quite intrigued by these flavor sets but they don't send to Canada.
You can make this totally milk free by substituting coconut oil to the butter and 1 tbsp mayonnaise for each ounce of cream cheese.
Have fun and see what variations you can come up with!
Printable Recipe Card for Egg Fast Lemon Bars
Yield: 6 Servings
Keto Egg Quick Lemon Bars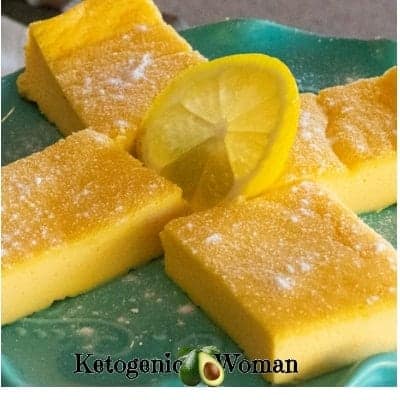 Keto Egg Fast Lemon Bars are a wonderful textural change for egg fasters!
Ingredients
6 Eggs
3 oz cream cheese
3 Tbsp butter
3 Tbsp mayonnaise
4 packets True Lemon Crystals
3 Tbsp Erythritol/stevia blend (or sweetener of choice)
Directions
Preheat oven to 350
Place all ingredients into a large blender
Blend until frothy
If using a regular pan, line with parchment.
Pour mixture into 9 inch pan or 12 muffin pan or 12 mini loaves
Bake 20 minutes for muffins or mini loaves and 30 minutes for 9 inch pan.
Cool and cut into 12 equal portions (if using pan)
Notes
I enjoy these cold from the refrigerator, they taste somewhat like cheesecake!
On the Egg fast: 2 squares, 2 muffins or two mini loaves = 1 egg, 1 tbsp fat and 1/2 ounce cheese
Nutrition Information:
Yield:
6
Serving Size:
2 bars
Amount Per Serving:
Calories: 215 Total Fat: 20g Saturated Fat: 8g Unsaturated Fat: 7g Carbohydrates: 2g Protein: 8g
Here are a few other Egg Fast recipes for you to try!
Egg Fast Recipes to Try
Here are some simple egg quick recipes for you to test out!
Save these Egg Quick Lemon Bars to Pinterest!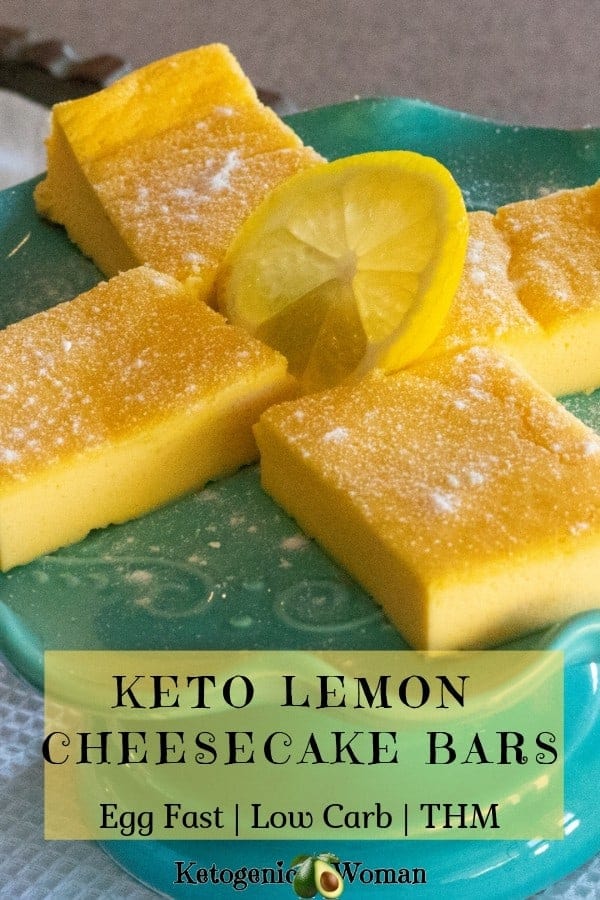 The post Keto Egg Quick Lemon Bars appeared first on Ketogenic Woman.